If you're a homeowner in Westlake OH, and find yourself in need of a reliable and skilled roofing contractor in Westlake OH, we're here to guide you on your quest to find the very best professional to take care of your roofing needs in Westlake OH.
In this blog, we have listed essential factors to consider when finding the services of a roofing contractor in Westlake OH. You'll find a wealth of valuable tips for selecting the best roofing contractor in Westlake OH, reliable sources to locate top-notch roofing contractors in Westlake OH, and an extensive range of services that should be provided.  Armed with this comprehensive information, you will bridge any knowledge gaps and make a well-informed decision when choosing the perfect roofing contractor for your project in Westlake OH.
Finding Trustworthy Roofing Contractors in Westlake OH
We understand that finding a trustworthy roofing contractor can be a daunting task. After all, your roof is a crucial component of your home, and you want to ensure it is in capable hands. Fret not, as we have got you covered! Here, we will guide you through the process of finding reliable roofing contractors in Westlake, OH. Let's dive in and discover your ultimate reference for securing top-notch roofing services.
Seek Recommendations from Your Network
When it comes to finding trustworthy roofing contractors, word-of-mouth recommendations are invaluable. Reach out to your friends, neighbors, and colleagues who have recently had roofing work done. Ask them about their experiences, the quality of workmanship, and their overall satisfaction with the contractor. Personal recommendations provide a great starting point in your search for a reliable roofing contractor in Westlake.
Check Online Reviews and Ratings:
In this digital age, online reviews and ratings play a significant role in assessing the reputation and reliability of service providers. Visit popular review platforms such as Google, Yelp, or Angie's List to read reviews and ratings of roofing contractors in Westlake, OH. Pay attention to both positive and negative feedback to get a comprehensive understanding of each contractor's strengths and weaknesses. This step will help you shortlist a few trusted professionals.
Verify Credentials and Insurance:
A trustworthy roofing contractor will have the necessary credentials and insurance in place. Before finalizing your choice, verify that the contractor is properly licensed and registered to operate in Westlake, OH. Additionally, ensure they have adequate liability insurance and workers' compensation coverage. These credentials not only protect you but also indicate the contractor's commitment to professionalism and safety.
Request Multiple Quotes and Detailed Proposals:
Obtain quotes from at least three roofing contractors in Westlake, OH. A detailed proposal should outline the scope of work, materials to be used, project timeline, and estimated costs. Make sure the quotes are comprehensive and transparent. Beware of unusually low bids, as they might indicate subpar materials or hidden charges. A trustworthy contractor will provide a fair and reasonable estimate for your roofing project.
Seek Warranties and Guarantees:
Reputable roofing contractors stand behind their work and offer warranties and guarantees for their services. Inquire about the warranties provided for both labor and materials. A solid warranty demonstrates the contractor's confidence in their craftsmanship and ensures that you have recourse if any issues arise after the project is completed.
Conduct Face-to-Face Interviews:
Arrange face-to-face meetings with the roofing contractors you are considering. This will give you an opportunity to gauge their professionalism, knowledge, and communication skills. Ask relevant questions about their experience, previous projects, and their approach to handling unexpected challenges. A trustworthy contractor will be responsive, attentive, and open to addressing your concerns.
Choosing a roofing contractor with local experience in Westlake, OH, is beneficial for several reasons. Local contractors understand the specific weather conditions, building codes, and regulations in your area. They also have established relationships with local suppliers, ensuring a smoother and more efficient project execution.
Finding a trustworthy roofing contractor in Westlake OH, may seem like a daunting task, but by following these steps, you can simplify the process and make an informed decision. Seek recommendations, read online reviews, verify credentials, request detailed proposals, and ensure warranties are provided. Don't forget to conduct face-to-face interviews to get a feel for each contractor's professionalism and expertise. By taking these steps, you'll be well on your way to finding a reliable roofing contractor who will deliver top-notch results for your home.
Remember, your roof deserves the best, and with this ultimate reference guide, you can confidently embark on your search for a trustworthy roofing contractor in Westlake, Ohio!
Where to Find the Best Roofing Contractor in Westlake OH
We've got you covered in Westlake, OH! Whether you're building a new home or looking to repair or replace your existing roof, finding the right contractor is key. Here are the top places to find the best roofing experts in town:
1️⃣ Local Directories: Flip through the pages of local directories specific to Westlake, OH. These treasure troves of information will lead you straight to experienced roofing professionals who have been serving the community for years.
2️⃣ Online Platforms: Explore the digital realm! Hop onto online platforms dedicated to connecting homeowners with roofing contractors in Westlake. Browse through reviews, compare quotes, and find the perfect match for your roofing needs.
3️⃣ Word-of-Mouth: Spread the word! Ask your friends, family, and neighbors who have recently had roofing work done. Nothing beats a personal recommendation when it comes to finding trustworthy contractors. Don't hesitate to seek their advice and learn from their experiences.
4️⃣ Social Media: Scroll, click, and discover! Social media platforms are not just for entertainment. Join local community groups and forums in Westlake, OH, where homeowners actively share their experiences and recommend reliable roofing contractors. It's a goldmine of information waiting to be tapped!
Finding the perfect roofing contractor in Westlake OH, doesn't have to be a daunting task. With these top-notch resources at your fingertips, you'll be well on your way to securing a durable and stylish roof that will protect your home for years to come! Happy roofing! 
10 Must-Ask Questions Choosing the Right Roofing Contractor in Westlake OH
Choosing the right contractor for your roofing needs is a vital decision that can make all the difference in protecting your home's sweet home. To help you make the best choice, we've compiled a list of the 10 Must-Ask Questions when selecting a roofing contractor in Westlake OH.
1️⃣ Who's got the experience? 
Ensure they have a solid track record and extensive experience in the roofing industry. You want a contractor who knows their way around any type of roof.
2️⃣ Are you licensed and insured? 
Protect yourself and your property by hiring a licensed and insured contractor. This ensures professionalism, compliance, and peace of mind.
3️⃣ What services do you offer? 
Make sure they provide a wide range of roofing services, including installation, repairs, maintenance, and inspections. Versatility is key!
4️⃣ Can you provide references? 
Don't hesitate to ask for references from their previous clients. Hearing positive feedback will instill confidence in your decision.
5️⃣ Do you offer warranties? 
A reputable contractor should offer warranties on their workmanship and materials. This guarantees you're covered for any unforeseen issues.
6️⃣ How do you handle permits? 
Ensure the contractor takes care of obtaining any necessary permits for the roofing project. Proper documentation is essential to avoid legal headaches.
7️⃣ Are you up to date with safety standards? 
Safety is paramount! Ensure the contractor follows all safety regulations and has the necessary equipment to protect their workers and your property.
8️⃣ Can you provide a written estimate? 
Get everything in writing! A detailed estimate will give you a clear understanding of the costs involved and help you plan your budget accordingly.
9️⃣ What's your timeline? 
Discuss the project timeline upfront. A reliable contractor will provide a realistic schedule and stick to it, ensuring minimal disruption to your daily life.
🔟 How's your communication? 
Open and clear communication is key to a successful partnership. Make sure you can easily reach the contractor and that they promptly address your questions and concerns.
With these 10 Must-Ask Questions in your arsenal, you'll be armed with the knowledge needed to choose the perfect roofing contractor in Westlake OH. Protect your home and invest in a reliable partner who will keep you covered, rain or shine!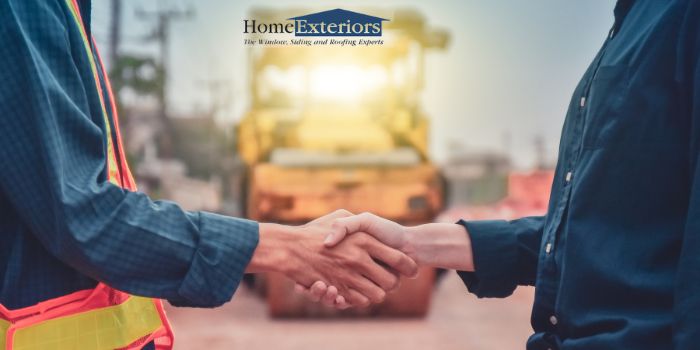 Top Tips Before Hiring a Reliable Roofing Contractor in Westlake OH
Before you embark on your roofing adventure in beautiful Westlake OH, we've got your back with expert tips to ensure a seamless experience! 
 Tip 1: Quality Over Everything
Don't settle for anything less than excellence! When selecting a roofing contractor, prioritize their reputation for top-notch craftsmanship and reliability. Remember, your roof deserves the best in the business!
 Tip 2: Get It All in Writing
Avoid any surprises down the road by requesting a detailed written estimate. This ensures transparency and clarity regarding costs, timelines, materials, and any potential additional charges. A contract makes everything official, giving you peace of mind throughout the project.
 Tip 3: Check Those Credentials
No shortcuts here! Verify that your prospective roofing contractor is fully licensed, bonded, and insured. This way, you'll be protected from any unforeseen mishaps, and you can rest assured that your project is in capable hands.
 Tip 4: Experience Matters
Don't gamble with your roof's fate! Opt for a roofing contractor with ample experience in handling projects similar to yours. Seasoned professionals bring valuable expertise and know-how to tackle any challenges that may arise, leaving you with a stunning and durable roof.
 Tip 5: Communication is Key
Open lines of communication are the secret to a successful collaboration. Choose a roofing contractor who prioritizes effective and prompt communication. Clear channels ensure you're always in the loop, making the entire process smooth and stress-free.
 Tip 6: Seek Out Reviews and Referrals
Word-of-mouth is a powerful tool! Ask friends, family, and neighbors for recommendations or scour online platforms for reviews. Honest testimonials provide valuable insights into a contractor's performance, helping you make an informed decision.
 Tip 7: Time is of the Essence
Roofing projects are time-sensitive, especially with Westlake's unpredictable weather! Choose a contractor with a proven track record of completing projects within agreed-upon timelines. Efficient teams keep delays at bay, ensuring your roof is restored in no time.
 Tip 8: Safety First, Always
Your safety and that of the workers should be a top priority. Verify that the contractor adheres to strict safety standards, including providing adequate protective gear and following proper protocols. A responsible contractor guarantees a secure work environment for everyone involved.
Tip 9: Embrace Warranties
A reputable contractor stands behind their work. Prioritize those who offer warranties on both materials and labor. This provides added protection and peace of mind, knowing that you're covered if any issues arise after the project is completed.
 Tip 10: Trust Your Gut
Last but not least, trust your instincts! If something feels off during the hiring process, it's okay to explore other options. Choose a contractor you feel comfortable with and whose values align with yours. Your gut feeling often leads you to the perfect match!
 Don't let a subpar roof rain on your parade! Follow these top tips and ensure a hassle-free roofing journey in Westlake OH. Your dream roof awaits! 
Why Choose Home Exteriors?
Home Exteriors specializes in everything from new roof installations, roof repairs, and maintenance to total roof replacements. It doesn't matter what type of roofing system we are working with, we always ensure quality workmanship, excellent customer service, and a long-lasting, durable roof over your head.
Quality Workmanship, Guaranteed Satisfaction 
From new roof installations to repairs and maintenance, our team specializes in delivering top-notch craftsmanship. We take pride in every project we undertake, ensuring your complete satisfaction. With us, you'll have a long-lasting, reliable roof that protects your home for years to come.
 Trustworthy and Accredited 
Our exceptional service has earned us superior customer reviews and prestigious accreditation from the BBB. With an A+ rating and over 1,000 completed projects under our belt, you can trust us to handle your roofing needs with the utmost professionalism.
 Residential or Commercial, We've Got You Covered 
At Home Exteriors, we cater to both residential and commercial clients. Our comprehensive range of services includes roofing, siding, gutters, windows and doors, and insulation. Whatever your exterior improvement needs may be, our team has the expertise to deliver outstanding results.
 Unparalleled Expertise, Reliable Professionals 
We understand the importance of having skilled and trustworthy individuals working on your home. That's why we meticulously select our team of roofing professionals, ensuring they meet our rigorous standards. With their expertise and dedication, you can rest assured that your project is in the best hands.
 Superior Materials, Cost-Efficient Solutions 
When it comes to roofing materials, we only work with the most reliable, high-quality options available. Our commitment to excellence means we provide cost-efficient solutions that not only meet your budget but also exceed your expectations.
Ready to elevate your home's exterior? Choose Home Exteriors, your certified roofing contractor in Westlake OH. Contact us today or call (330) 664-9089 today to discuss your upcoming project in Westlake OH without any hesitation.