Are you seeking reliable roofing services in Westlake OH? Look no further! Welcome to the comprehensive and definitive guide that will lead you to the finest roofing Westlake OH solutions in this picturesque Ohio city. As a homeowner ensuring your roof is in top-notch condition is crucial to protect your property from the elements and maintain its value.
In this all-encompassing guide, we'll walk you through everything you need to know about roofing services in Westlake OH. From finding reputable roofing contractors and understanding the different roofing materials available to tackling common roofing issues and exploring the latest roofing trends, we've got you covered.
Our expert tips and insights will empower you to make informed decisions when it comes to your roofing needs. Discover the best practices for roof maintenance, repair, replacement, and restoration that will ensure your property remains safe and secure for years to come.
Roof Replacement in Westlake OH: Top-Notch Roof Replacement Solutions
Over time, even the sturdiest roofs can begin to show signs of wear and tear. If your roof has reached its expected lifespan or suffered significant damage from harsh weather conditions or other factors, it's crucial to consider a roof replacement. Roof replacement in Westlake OH aims to provide you with a brand-new roof that precisely meets your property's requirements.
Age: Roofs, like any component of a house, have a limited lifespan. Most asphalt shingle roofs typically last from 20 to 25 years. If your roof is approaching or surpassing this age, it might be time for a replacement.
Curling or Buckling Shingles: Curling or buckling shingles are clear indicators of weathering. Such compromised shingles are more susceptible to water infiltration, leading to leaks and potential structural damage.
Missing Shingles: Addressing missing shingles promptly helps prevent water infiltration and further damage to your roof.
Water Leaks: Water stains on ceilings or walls can indicate roof leaks. Left unattended, these leaks can cause mold growth and compromise your property's structural integrity.
Before proceeding with a roof replacement, it's crucial to have a professional roofing contractor in Westlake OH conduct a thorough inspection to assess the damage's extent and provide the best solution tailored to your needs and budget.
Residential Roof Replacement in Westlake OH: Securing and Beautifying Your Home
As homeowners, having a secure and aesthetically pleasing roof over your head is a top priority. Residential roof replacement services cater to the needs of homeowners in Westlake OH. With a focus on quality craftsmanship and top-grade materials, skilled roofing contractors in Westlake OH will provide you with a new roof that enhances the curb appeal of your home while protecting it from the elements for years to come.
Roof Repair in Westlake OH
Roofing services in Westlake OH don't just offer top-notch roof replacement solutions; they also encompass efficient roof repair services. Addressing roof issues promptly is crucial to prevent further damage and extend the lifespan of your roof.
Residential Roof Repair in Westlake OH: Trusted Experts for Homeowners
Homeowners in Westlake OH can trust expert teams to tackle various residential roof repair needs. From minor leaks to more significant issues, they take every step to restore the functionality and integrity of your roof. Experienced contractors conduct thorough inspections to identify the root cause of the problem, ensuring they provide effective and lasting solutions.
Residential Roof Repair Services Include:
Addressing Roof Leaks: Skilled professionals utilize advanced techniques to locate and repair leaks, ensuring your home remains dry and secure.
Repairing Damaged Shingles: Damaged shingles are replaced to prevent water infiltration and restore the overall appearance of your roof.
Fixing Roof Flashing: Properly installed roof flashing is vital in preventing water penetration. Teams inspect and repair flashing, ensuring your roof is well-protected against the elements.
Gutter Repair and Maintenance: Damaged or clogged gutters can lead to water pooling on your roof, causing potential damage. Gutter repair and maintenance services ensure proper water drainage, protecting your roof and foundation.
Storm Damage Repairs: Severe weather can cause significant damage to your roof. Skilled roofing contractors in Westlake OH assess storm damage and perform necessary repairs to restore the integrity of your roof.
Siding and Chimney Repairs: Comprehensive repair services are offered for siding and chimneys, ensuring all aspects of your roof are in optimal condition.
Roof Installation in Westlake OH: Building a Strong Foundation
For new constructions or property expansions, roofing services in Westlake OH extend to professional roof installation solutions. A proper roof installation is the foundation of a long-lasting and durable roofing system that will protect your property for years to come.
Residential Roof Installation in Westlake OH
A new home deserves a reliable and visually appealing roof. Residential roof installation services in Westlake OH are designed to provide homeowners with a sturdy roof that complements the overall design of homeowners' property. Understanding that a roof is a significant investment, experienced teams are committed to delivering exceptional results.
Residential Roof Installation Offers:
Tailored Roofing Solutions: Teams work closely with homeowners to understand your preferences and needs, offering a range of roofing materials and styles to suit different architectural designs.
Quality Materials and Craftsmanship: Top-quality materials are used, and skilled craftsmanship ensures that residential roof installation is of the highest standard.
Energy-Efficient Roofing: Roofing options include energy-efficient materials, helping to reduce utility costs and minimize your carbon footprint.
Enhancing Curb Appeal: A well-installed roof can significantly enhance the curb appeal of your home, adding value to your property.
Code Compliance: Professional installers adhere to local building codes and regulations, ensuring your roof meets all necessary safety standards.
Warranty and Customer Satisfaction: Warranties are offered on residential roof installations, providing peace of mind and assurance in the quality of their work.
Whether building a new home or replacing an old roof, residential roof installation services will exceed expectations.
Roof Maintenance in Westlake OH: Beauty and Reliability Combined
Preventative maintenance is key to prolonging the life of your roof and avoiding costly repairs. Roofing services in Westlake OH encompass comprehensive roof maintenance solutions to keep your roof in optimal condition.
Residential Roof Maintenance in Westlake OH
Regular maintenance of your residential roof can prevent minor issues from escalating into significant problems. Residential roof maintenance services include thorough inspections and timely repairs, giving you peace of mind knowing your home is well-protected.
Residential Roof Maintenance Services Include:
Scheduled Roof Inspections: Expert teams conduct regular roof inspections to detect and address any potential issues early on.
Cleaning and Debris Removal: Debris is removed, and your roof is cleaned to prevent water pooling and damage.
Gutter Maintenance: Properly maintained gutters ensure proper water drainage, protecting your roof and foundation.
Roof Coatings and Treatments: Roof coatings and treatments are applied to enhance the longevity and performance of your roof.
Identifying and Fixing Leaks: Promptly identifying and fixing roof leaks prevents further damage and potential water infiltration.
Preserving Roof Appearance: Regular maintenance helps keep your roof looking its best, enhancing the overall appearance of your property.
Investing in roof maintenance not only extends the life of your roof but also saves you money in the long run by preventing costly repairs.
Roof Restoration in Westlake OH: Breathing New Life Into Your Roof
Roof restoration is a cost-effective alternative to roof replacement, especially for roofs showing signs of aging or minor damage. Roofing services in Westlake OH encompass professional roof restoration solutions that can breathe new life into your roof.
Residential Roof Restoration in Westlake OH
Homeowners looking to rejuvenate aging roofs can opt for residential roof restoration services. Roof restoration not only improves the aesthetics of your property but also reinforces the roof's structure, making it more durable.
Roof Types in Westlake OH
Roofing services in Westlake OH offer a diverse selection of roof types to meet the unique needs and preferences of property owners. Whether you own a residential or commercial property, finding the right roof type is crucial for protecting your investment and enhancing the overall aesthetics of your building.
Residential Roof Types in Westlake OH
As a homeowner in Westlake OH, you have a wide array of roof types to choose from, each with its own distinct advantages and appeal. Roofing services are tailored to accommodate popular residential roof types that are well-suited for various architectural styles and personal preferences.
Asphalt Shingles: Asphalt shingles are the most common and widely used roofing material for residential properties in Westlake OH. They are cost-effective, easy to install, and come in a range of colors and styles to complement any home design.
Metal Roofs: Metal roofs have gained popularity in recent years due to their durability, energy efficiency, and modern appearance. They are available in various metals, such as steel, aluminum, and copper, and can last for several decades with proper maintenance.
Tile Roofs: Tile roofs exude a classic and elegant look that suits Mediterranean and Spanish-style homes. They are renowned for their longevity, fire resistance, and exceptional durability, making them a premium choice for homeowners seeking a timeless appeal.
Slate Roofs: For homeowners who desire unparalleled sophistication and longevity, slate roofs are an excellent option. These natural stone roofs boast a distinctive beauty and can last over a century when properly installed and maintained.
Wood Shakes or Shingles: Wood shakes and shingles offer a charming, rustic appearance that blends seamlessly with nature. They are eco-friendly and provide excellent insulation, but they require regular maintenance to prevent issues such as rot or insect infestation.
Choosing the right residential roof type involves considering factors such as the climate, budget, maintenance requirements, and architectural style of your home. Experienced roofing contractors in Westlake OH are ready to assist you in making an informed decision and installing the perfect roof to protect and enhance the beauty of your home. With a vast selection of roof types and expertise in installation, roofing services in Westlake OH are here to bring your vision to life and ensure your complete satisfaction.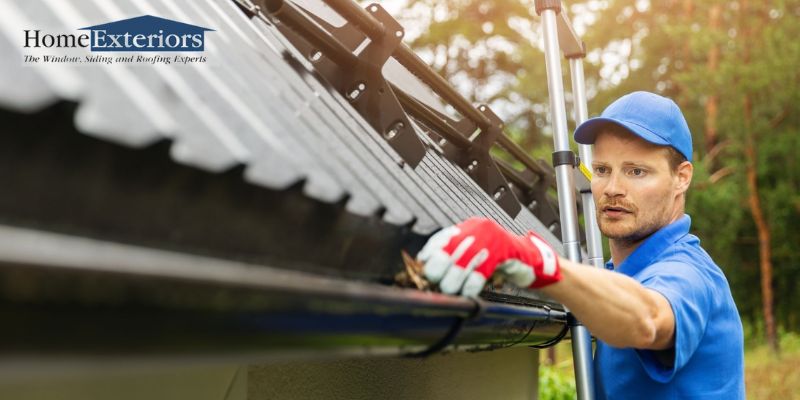 How to Choose the Best Roofing Contractor in Westlake OH?
When it comes to finding the best roofing contractor in Westlake OH, making the right choice is essential to ensure your roofing project is a success. With numerous options available, it can be overwhelming to select the most reliable and skilled contractor. However, there are key factors to consider that will guide you in making an informed decision.
Roofing projects are significant investments that require expertise and professionalism to achieve durable and visually appealing results. Whether you need roof repairs, a complete replacement, or a new installation, partnering with an experienced roofing Westlake OH contractor is crucial. With a plethora of roofing companies in Westlake OH, one company stands out among the rest – Home Exteriors.
Choose Home Exteriors!
As a leading roofing contractor in Westlake OH, Home Exteriors boasts an impressive track record and a strong commitment to customer satisfaction. Here are some highlights that set them apart:
30 Years of General Contracting Experience: With three decades of experience in the industry, Home Exteriors has honed its skills and expertise, providing reliable and top-notch roofing services.
A+ Rating with the BBB and Countless Five-Star Reviews: Our dedication to quality work and customer service has earned us an A+ rating with the Better Business Bureau, and we take immense pride in the numerous five-star reviews from satisfied customers.

Family-Owned and Customer-Centric: As a family-owned company, we treat our clients like neighbors. Our mission is to provide roofing solutions that ensure your property's safety and your complete satisfaction.

Over 23,000 Satisfied Customers and Counting: Our commitment to delivering outstanding results has resulted in thousands of happy customers who have entrusted us with our roofing needs.
What Home Exteriors Offers:
At Home Exteriors, we offer a comprehensive range of roofing services to cater to residential clients. Our roofing solutions are designed to enhance the beauty, functionality, and longevity of your property. Here's what you can expect when you choose Home Exteriors:
Free Estimates: We believe in transparency and provide accurate, no-obligation estimates for all our roofing services.

Flexible Monthly Payment Plan: We understand that roofing projects can be substantial investments. Therefore, we offer a convenient monthly payment plan to accommodate your budget.

Custom Colors and Architectural Accents: Personalize your roofing solution by choosing from a wide selection of custom colors and architectural accents to complement your property's exterior.

Comprehensive Exterior Services: Our expertise extends beyond roofs. We cater to all your exterior needs, including siding, gutters, windows and doors, and insulation. Expect outstanding results every time.
Our Roof Services Include:
Roof Repair & Maintenance

Roof Replacement

New Roof Installation

Gutter & Downspout Installation

Comprehensive Roof Inspections & Estimates
Our extensive portfolio showcases a wide range of completed roofing projects, highlighting Our dedication to quality workmanship. Read the testimonials of our satisfied customers, and you'll see why Home Exteriors is the go-to choice for roofing services in Westlake OH.
Your home deserves the best roofing services in Westlake OH. Contact us today for a free estimate and discover how our expertise can transform your property and exceed your expectations. Trust us to provide you with a reliable, durable, and visually appealing roofing solution. Your satisfaction is our utmost priority!
FAQs of Roofing Services in Westlake OH
How much does a roof replacement in Westlake OH cost?
The cost of a roof replacement varies based on factors such as the size of your property, the type of roofing materials used, and the complexity of the project. To get an accurate estimate, it's best to schedule a consultation with a roofing contractor.
How long does a roof replacement take?
The duration of a roof replacement depends on the size of the project and the weather conditions. On average, a residential roof replacement can take anywhere from a few days to a week.
How often should I have my roof inspected?
It's recommended to have your roof inspected at least once a year, preferably in the spring or fall. Regular inspections can help identify minor issues early on and prevent them from escalating into major problems.
What roofing material is best for my home in Westlake OH?
The best roofing material for your home depends on various factors, including your budget, climate, and personal preferences. Popular roofing options include asphalt shingles, metal roofs, and tile roofs.
Can I install a new roof over my existing one?
In some cases, it may be possible to install a new roof over an existing one, but it's essential to consult with a roofing professional to determine if this option is suitable for your property.
These FAQs address some common questions related to roofing services in Westlake OH. Remember, when it comes to roofing projects, it's crucial to partner with experienced and reliable contractors to ensure the longevity and performance of your roof.